Manufacturing in Canada since 1945
GIANT is the only water heater manufacturer operating in Canada. The company has two factories equipped with state-of-the-art machinery and more than 300 dedicated and passionate employees. Its continuous improvement processes guarantee constant innovation and quality products at a competitive price.
Established in Montréal-East, Québec, since 1945.
The only water heater manufacturer operating in Canada.
Two factories equipped with state-of-the-art machinery.
Products sold from coast to coast.
Offer safe products that stand out in the market by their outstanding performance, their sustainability and their components increasingly more environmentally friendly, thus enhancing everyday living.
Remain the number 1 water heater manufacturer in Canada, thanks to efficient, passionate and dedicated staff, and through research and development providing on-going product improvement.
Integrity, Safety and Respect are the core values of the company. Its family culture promotes a human approach in transparency and the desire to provide peace of mind to customers daily.
Highlights that contributed to Giant's success
1944-1950
1944 First electric iron repair shop opens on Sainte-Catherine Street.
1945 Giant Electric Manufacturing Co. is founded by Lucien Lesage and his brother Jean Lesage. The company establishes its fundamental values: motivation, courage, tenacity and innovation.
1947 New electric appliances are designed: heating plates and toasters. The founders work overtime to maximize business growth and innovation.
1944 | From left to right: Lucien Lesage and Jean Lesage.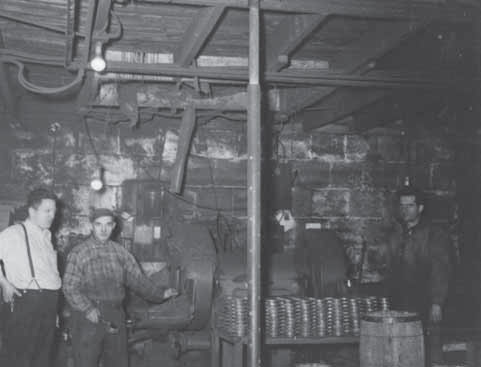 1946 | Installation of a roof on pillars.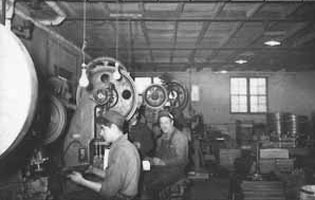 1948 | Toaster and heating plate shop.
1951-1960
1957 Giant Electric Manufacturing Co. launches its first handmade water heater models.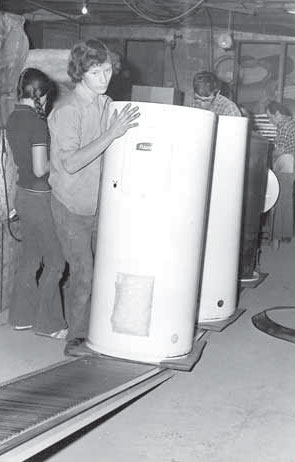 1961-1970
1967 Lucien Lesage's son Claude Lesage, who completed an undergraduate program in engineering at Polytechnique Montréal, takes over the company and revitalizes it. He implements new strategies and innovative processes that significantly improve the company's productivity.
1969 Giant acquired Westinghouse in Hamilton, Ontario. The company had a tubular element production line dating from 1950. The manufacture of electrical elements is integrated into the Montréal-East plant.
1971-1980
1970-1971 Giant Electric Manufacturing Co. redefines its position on the Canadian market and becomes the largest manufacturer of immersion heating elements in Canada.
1973 The company faces its first steel crisis and decides to produce its own tanks. It installs a firing kiln that will enable the company to produce more than 200 water heaters per day. This new vitrification process also improves the quality of the tanks, thus extending the lifespan of water heaters.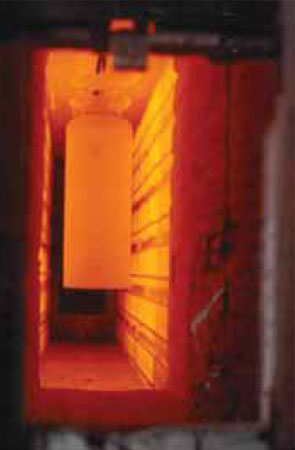 1973 | Firing kiln for inner tank vitrification.
1981-1990
1982 A fire ravaged the manufacturing factory. After only two weeks of downtime, the company's activities resumed, due to the active and committed collaboration of the employees.
Shortly after this incident, the company changed its name to Usines GIANT Factories inc.. This turn coincides with the release of new lines of water heaters:
1984 Residential natural and propane gas-fired models
1986 Commercial electric models.
1987 Innovation by a partial robotization of the plant in Montréal-East.
1988 In-house production of water heater parts and elements begins, eliminating subcontracting.
1991-2000
1993 New models of commercial gas-fired water heaters are introduced.
1994 The company increases its market share and production capacity due to the successful robotization of its facilities.
1995 Redéfinition de la mission et des valeurs de l'entreprise :
Mission : « Manufacture high-efficiency products that are eco-friendly and built to last longer. »
Valeurs : integrity, reliability, consistency and high quality products.
1997 The plant receives ISO 9002 1994 certification. GIANT commits to protecting the environment by building its water heaters with

a water-based insulation.
1998 A new category of oil-fired water heaters is introduced.
1999-2000 The gas-fired water heater line has expanded to three new categories:
– Power vent (PV)
– Power direct vent (PDV)
– Direct vent (DV)
2001-2010
2001 GIANT brand's reputation is reinforced by its durable, high quality products and a massive investment in research and development.
2002 The company diversifies its commercial gas-fired water heaters and increases its production capacity.
2004 Upheaval in the water heater manufacturing industry due to significant changes in North American Standards. GIANT's founders work with FVIR, a consortium, to develop technological innovations.
2005 Company President Claude Lesage is awarded a medal of bravery for risking his life to save a man from a boat that was on fire (HPAC).
2005 à 2012 The company management decides to fully automate the plant in an effort to improve its products and processes.
2007 Manufacturers with plants located in Mexico enter the Canadian market and create competition for GIANT. New, smaller-capacity water heaters are developed to maintain competitiveness.
2007 Superior quality water heaters with exclusive features are developed for plumbing experts.
2008 The company launches power direct vent water heaters with three-inch vent pipes.
2009 The Expert Plus are improved with screw-in elements and a bottom cold water intake.
2010 The company collaborates with Hydro-Québec, the largest electricity provider in the country, to develop a more energy-efficient product. GIANT launches three-element ECOPEAK® products using 800 W, 3000 W and 3800 W of power during low or high-use periods.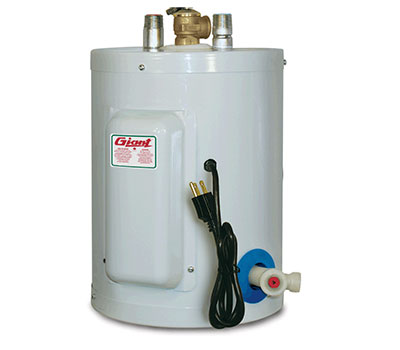 2007 | Point of Use Water Heater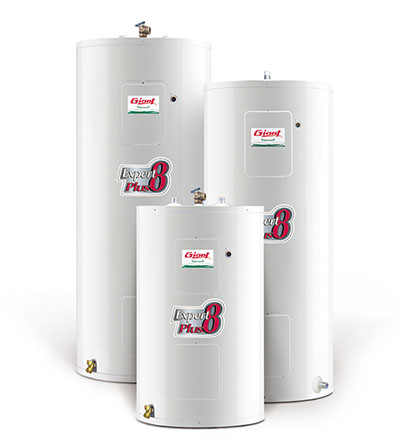 2009 | Expert Plus 8 Models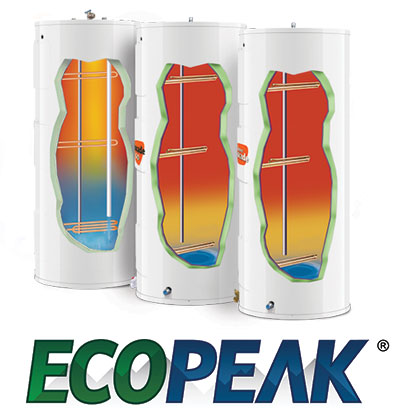 2010 | 3-element ECOPEAK® models.
2011-2015
2011 GIANT expands its geographic reach by entering the U.S. market with atmospheric gas and Expert Plus models.
2012 Continuous improvement of GIANT products through the market demands (Plumbing & HVAC). It also offers better value water heaters. It introduces the following changes:
1. Some water heaters receive ENERGY STAR® certification
2. Power direct vent models are transformed
3. Commercial gas model line is expanded
2013 The company undergoes restructuring and opens new offices that include 24 new workstations, a training room and meeting rooms.
2013 GIANT diversifies its product range::
1. Commercial electric models that can be converted on job sites
2. Space-saving tankless natural gas and propane water heaters
3. TTX-series hybrid water heater that combines technology from tankless and storage tank models
2014 The company makes a massive investment and expands its warehouse in Montréal-East and its CSA-certified lab.
2015 Usines GIANT factories inc. celebrates 70 years as a family-run business. Company President Claude Lesage celebrates 50 years of service.
2015 The company's success is highlighted in one of the plumbing industry's most influential magazines (Plumbing & HVAC, p40-41).
2016-2021
2016 GIANT supports family business governance and development by making a $ 1.7 million contribution to HEC Montréal for the creation of the new Deschênes | Molson | Lesage Family Business Centre (Les Affaires).
2016 GIANT's management indicates interest in increasing the company's market share in the U.S. by offering a broader range of products and responding to a growing demand for water heaters (La Presse).
2017 GIANT parters with casa.energy, a Montreal-based startup that specializes in IoT (Internet of Things) and energy management in order to provide load control and communication-capable products to its utility customers.
2018 Claude Lesage receives the Maestria Reconnaissance award in recognition of his remarkable contribution to the building mechanical industry (CMMTQ).
2019 GIANT ranks among the 300 most important SME in Quebec (Les Affaires).
2019 GIANT joins the program Well made here (AQMAT).
2021 A.O. Smith has acquired GIANT , the Quebec-based manufacturer of residential and commercial water heaters, for US$192 million. (HPAC)
"We are extremely excited about the benefits of a powerful combination with a world leader in global water technology. This natural and logical partnership with A. O. Smith will enhance prospects for our customers, employees, and suppliers." – Claude Lesage, President.